POV: We need to focus on children's rights as we tackle reopening of day care centers in Massachusetts | BU today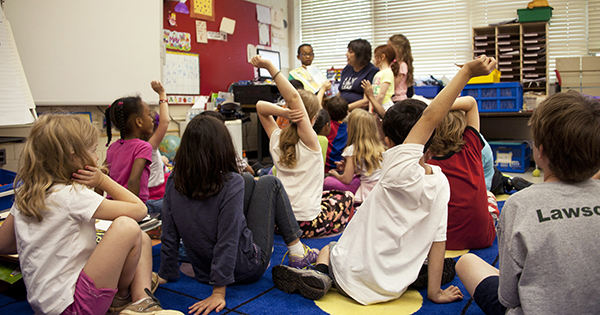 Daycare centers in Massachusetts are grappling with impossible decisions. How can they meet new regulations to keep children safe during the pandemic, while providing high-quality experiences for young children? Can they afford to reopen? Can early care providers stay safe while meeting requirements? The essential role that child care services play in society has never been clearer. But as decisions are made about reopening guidelines and adult-to-child ratios, are we forgetting the rights of children and those who care for them?
All young children, especially those who live in adversity due to racism, economic and food insecurity, and other systemic injustices, deserve to have access to excellent and equitable child care. the United Nations Convention on the Rights of the Child and the Universal Declaration of Human Rights providing protections for the health, well-being and education of children that we must keep at the forefront. We, members of the new Faculty Alliance for Early Childhood Well-Being at Boston University, urge a focus on children's rights as we tackle the reopening of child care centers.
Children have the right to health. This means that they and their caregivers should not be at significant risk of contracting COVID-19. Although most cases in children have been mild, much remains unknown, including the long-term impact of the infection on neurodevelopment. The right to health also means that children should not be exposed to undue stress. Care environments that are unfamiliar due to COVID-19 restrictions will cause stress. Plans to reduce infections must be designed to minimize stress for children and caregivers—recent changes to Massachusetts reopening guidelines are a step in this direction. Children have the right to food and good nutrition. Child care providers are an important source of healthy meals that many children need. Children have the right to protection. The social isolation induced by the pandemic exposes many children to domestic violence, abuse or neglect in the home. Child care providers play an important role in protecting children living in adverse environments, and we need them in children's lives. We cannot protect the rights of children without also raising the rights of early childhood providers and providing them with concrete supports, such as salaries and work benefits.
Children have the right to an education which, as the United Nations Convention states, "should teach them to understand their own rights and to respect the rights, cultures and differences of others". Let's use this moment to reorganize the early education system, not only because of COVID, but also in light of the violence directed against blacks. Recent events have clearly shown that black children and families are at increased risk of health disparitiesmental and physical, due to the lack of access to health care and the toxic racial stress they face every day. Yet many small daycares, especially those serving low-income families or children of color, cannot afford to reopen. This could worsen inequalities in access to high quality child care services.
Our country has always underestimated and underfunded early childhood education and care, especially for marginalized children. As a society, we need to focus children's rights and reduce inequalities. Numerous studies in economics, cognitive neuroscience, psychology, health and education have shown that early childhood experiences are key determinants of children's success. Early childhood experiences profoundly influence brain development and contribute to mental health throughout life. Adverse childhood experiences have deleterious effects on children's social, emotional and academic development. Promoting protective factors such as high quality early care can reduce hardship later in life. We applaud recent bills in Congress supporting early childhood education and care with an investment of $ 50-100 billion – this is the level of support we need to transform early childhood care and education in the States- United.
The United Nations Convention concludes: "All children have all these rights, no matter who they are, where they live, what language they speak, what their religion is, what they think, what they look like, if they are a boy or a girl, whether they have a disability, whether they are rich or poor, and it doesn't matter who their parents or family are or what their parents or family believe or do. No child should be treated unfairly for any reason. Sadly, the United States is one of the few countries that has not ratified this United Nations convention, but nothing prevents Massachusetts from leading by example and promoting children's rights. Please do not continue to make decisions that exacerbate inequalities for young children, their families and their child care providers. Instead, let's base our decisions on early childhood science. Everyone has the right to benefit from science, and science clearly shows that investing in young children and those who care for them is necessary to protect their human rights.
Megina Boulanger, a lecturer from Wheelock College of Education & Human Development, can be contacted at [email protected]. Felicity crawford, an Associate Professor at the Wheelock Clinic, can be contacted at [email protected]. Stephanie Curenton, Associate Professor at Wheelock, can be reached at [email protected]. Ellie Friedland, an Associate Professor at the Wheelock Clinic, can be contacted at [email protected]. Ruth paris, associate professor in the School of Social Work, can be reached at [email protected]. Pierre Rockers, assistant professor at the School of Public Health, can be contacted at [email protected]. All are members of the new alliance of teachers of the BU for the well-being of early childhood.
"POV" is a review page that provides timely feedback from students, faculty and staff on a variety of issues: campus, local, state, national or international. Anyone interested in submitting an article, which should be around 700 words, should contact John O'Rourke at [email protected] BU today reserves the right to reject or modify submissions. The opinions expressed are solely those of the author and are not intended to represent the views of Boston University.